New Zealand company harnesses the power of packaging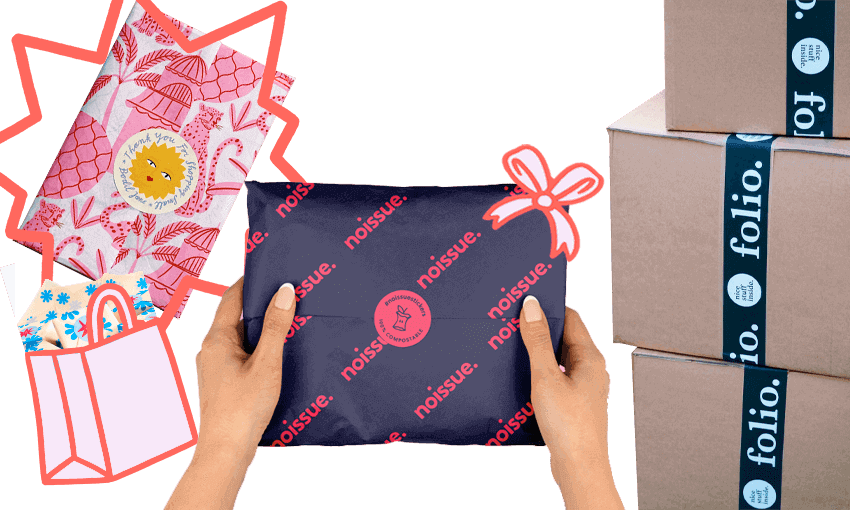 Customizable and durable tissue paper, stamps and envelopes are no problem for noissue, the global packaging solutions platform based in Tāmaki Makaurau. And he's riding the pandemic-fueled surge in the e-commerce sector.
Have you ever unwrapped a gift with inexplicable care and attention, simply because the wrapping looked better than the gift itself? Sometimes, with the right feel and look, an unboxing can make an ordinary day feel like Christmas morning. And how about feeling justified that your luxurious and expensive skincare craze justified its own puzzle of cardboard inserts and larger boxes, all tied in a bow?
Josh Bowden and Augie Gruar, founders of global packaging solutions platform noissue, can attest to the power of packaging. Founded in late 2016 and focused on small and medium-sized businesses, noissue's origins lie in Bowden and Gruar's earlier efforts to capture the global eyewear market with their own small business, the premium, eco-friendly eyewear brand. environment Lewis Fredericks. They had been looking for durable packaging to arrive empty, which prompted them to make their own. But when they showed the glasses to potential resellers, they answered as many questions about the packaging as they did about the product. They realized there was a gap in the market.
With 80,000 retailers and counting, noissue enables businesses to design and customize a range of recycled, compostable or recyclable products to their own brand, order as many units as they need and receive their silk, stamps or custom mailings. , ready to wrap a customer's online purchase. And customers are shopping online like never before – New Zealanders are shopping for a wider range of goods and in more stores, all from the comfort of their computer or phone screen. Online spending in 2019 increased by 13%; a year later, it increased by A quarter. Towards the end of 2021, it was expected to rise another 20%.
Coinciding with this surge in e-commerce, noissue has had its best two years of year-over-year growth, says Chief Operating Officer Tim Instone. "Across different industries, we've seen things like home goods and health and beauty really increase. People are working from home and instead of spending money going to restaurants, they care a lot more about a linen comforter set or whatever.
Five years on, noissue has grown from an initial team of four to a global employer of 130 and is financially backed by London-based Felix Capital, a "creative class venture capital firm" that backs Peleton, Deliveroo and Gwyneth. Goop from Paltrow. Instone remains that no problem had solicited the investment at all; the company had started growing so far and an Instagram direct message from Felix explained how he approached the subject. I spoke with Instone about the global packaging platform's path to success so far.
Is packaging the kind of business that's easy to scale?
The traditional packaging model is all about the quoting process, proofing, cutting lines, artwork costs, shipping, manufacturing – account management, basically. We managed to disrupt that and it depends on the platform that allowed us to do that at scale. Creativity is one of our core values ​​and customization is also important, so we started with our flagship product, zero-emission fabrics, and enabled people to not only design, but also order online. And then we'll make it into a product and ship it directly to our customer. It's a very scalable way of doing things.
How did you manage the process of expanding into new geographies?
We were global from day one. We sold in six markets – the US, Canada, UK, EU, New Zealand and Australia – from day one. [We had] a global mindset from the start. We are an online platform so it is quite easy to manage the front side of it. Building a global team to support this kind of expansion is probably what we've been working on for the past five years. I was in Toronto from day one, so a quarter of our team was already overseas, and then we developed our key hubs in London, Los Angeles, Auckland and Manila to support our global customer base. It was never really a thought for us that "we're going to need to open the door to the UK" next. It was immediate for us.
What was easy and difficult about finding scale?
The easiest part would be the product side. While launching a product isn't easy, deciding which product to bring to market is easy because we literally ask our customers after they order what they would like to see from us next. [Something] More difficult? Scaling a business in five or six different markets, building a powerful online platform – that's something you can't really do overnight because it takes a lot of effort and input. We focus on growing a world-class team. I arrived after spending a year at [mobile donation services company] Pushpay in Seattle. I got a call out of nowhere from Josh about a week before I was about to go to Toronto asking if I wanted to be among them and I was like, "Hell yeah!" So from there to here, I wouldn't say it's been difficult, but getting to that scale and that growth took a lot of problem-solving and a lot of stuff to do.