CRTFD x AKILA collaborate on biodegradable sunglasses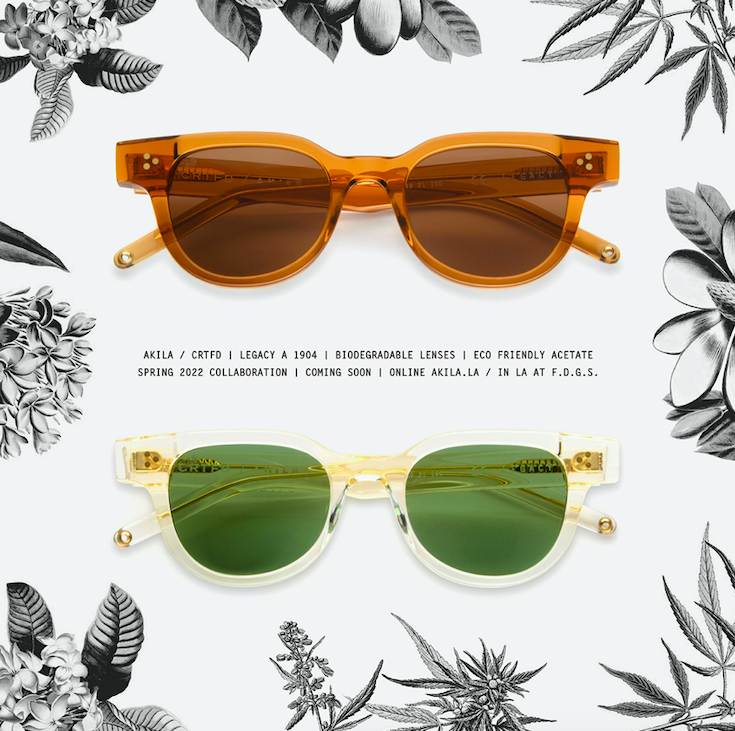 LOS ANGELES— AKILA has teamed up with LA-based lifestyle brand CRTFD for a reimagining of Legacy which drops Friday, April 22. This new variation of an AKILA Essential frame features gold elements and biodegradable lenses, reflecting both brands' commitment to bold creativity and sustainable processes. The acetate frame and bio lenses will naturally decompose after more than 5 years in a landfill, leaving behind carbon dioxide, water and biomass.
The CRTFD was founded in Los Angeles and is centered on the principles of authentic and creative expression, plant medicine and counterculture. What started as an experimental cannabis brand has evolved into an international company aiming to create products and experiences that challenge modern standards of retail, branding and conformity.
AKILA is an independent, Los Angeles-based eyewear brand specializing in handmade, limited-edition eyewear. AKILA advocates sustainability and manufactures its eyewear from eco-friendly acetate and plastic-free packaging, using renewable cork leather for its carrying cases complete with recycled paper labels.
For each pair of glasses sold on the AKILA website, AKILA plants a tree in partnership with Eden Reforestation Projects.
We also worked together to design a handmade custom ceramic sunglasses tray by the CRTFD design collective that will be available exclusively at FDGS @fdgs.la on April 22.
The sunglasses sell for $150.