Carmel Unveils Latest Sculpture in Arts and Design District – Hamilton County Reporter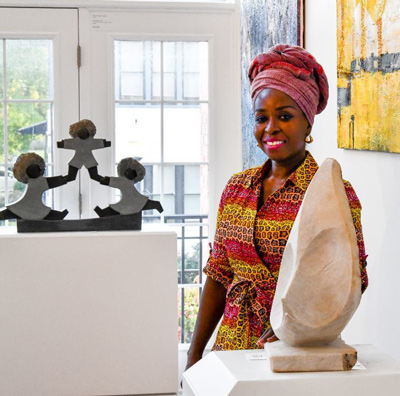 "Swing Me Higher, Mama" designed, built by Zimbabwean artist Dominic Benhura
A new sculpture was unveiled on Main Street and Veterans Way in Carmel on Saturday. The sculpture, titled "Swing Me Higher, Mama", depicts a mother playing with her young daughter and was created by artist Dominic Benhura of Zimbabwe, commissioned by the City of Carmel and facilitated by Jayne Pendant of Kuaba Gallery, 404 W Main St.
The unveiling took place at 5 p.m. Saturday at Allied Solutions' Meet Me On Main event in the Carmel Arts & Design District. "Swing Me Higher, Mama" is located on the southeast corner of the intersection of Main Street and Veteran's Way, next to the Carmel Chocolate Café.
Benhura traveled to Carmel from his home country of Zimbabwe to participate in the installation and unveiling of his artwork. Carmel City Council Speaker Kevin "Woody" Rider and Clay Township Councilor Mary Eckard were joined by members of the Carmel Public Art Advisory Committee, the Mayor's Advisory Commission on Public Relations organizations and other city officials to celebrate the unveiling of this sculpture.
"Public art is an important part of our community's culture, and it's equally important that our sculptures and artwork continue to reflect the growing diversity of Carmel. That's why I'm thrilled to welcome this new sculpture to Main Street for all to enjoy," said Mayor Jim Brainard. "It is important for the community as a whole to have access to art from around the world, regardless of a person's income level and ability to travel the world. Carmel's public art provides visual diversity to engage and inspire those who live, work or visit and enhance their experience while spending time here.
Mayor Brainard issued a proclamation in honor of the event, declaring May 14, 2022 "Dominic Benhura Day" in the city of Carmel.
Benhura is an internationally acclaimed sculptor from Zimbabwe, celebrated by galleries and clients alike for his themes focusing on the importance of family, the natural environment and the relationship between them. His works celebrate common themes that unite people of all cultural backgrounds around the world. His sculptures connect directly with their audience, fostering a sense of joy and wonder.
"This piece for Carmel is a sculpture celebrating the warmth of mothers," Benhura said. "It is appropriate since it will be installed in public and concerns everyone – to all visitors, young and old."
Jayne Pendant is owner and curator of Kuaba Gallery, a leading contemporary art gallery showcasing a diverse collection of paintings and sculptures by internationally and locally recognized artists. After running her gallery for several years in Indianapolis, she moved her collection to Carmel in 2018 and found success on Main Street.
"I would like to thank the City of Carmel for working with me and my gallery to help diversify public art in the city," said Pendant. "I look forward to future projects as well."
The sculpture is made of springstone, which is a natural rock found in Zimbabwe. It is an extremely hard serpentine that has almost the consistency of granite. Its size is 88 inches high by 43 inches wide and 12 inches deep. It weighs around 900 lbs.
The new sculpture replaced a previous work by artist Carmel Scott Osbourne. The concrete slab on this street corner was designed to house transient works of art that would be modified from time to time.
This sculpture unveiling comes two months after the unveiling of another sculpture, "Waiting To Cross", by J. Seward Johnson at Main Street and Monon Greenway, and shortly after the unveiling of a mural celebrating the heroes. and black heroines with ties to Indiana. , which was painted on the north side of Drs. Lauck & McLean Optometry Eyewear Building, 301 1st St. SW.
Learn more about public art in Carmel by visiting in person or viewing an interactive map of public art online.